China Beauty Network : Manager Zhou, Hello!

Manager Zhou: Hello!

China Beauty Network : I am a reporter for China Beauty Network , and I am honored to hear from you today.
First of all, can you give us a brief overview of our company and the company's brand?

Manager Zhou: We Shenzhen Tianzhu Ecological Clothing Co., Ltd. was established in 2008 with the promotion of the market in 2009, we Tianzhu ecological Clothing Co., Ltd is set product development, design, production and sales in the integration, he is relying on China Tianzhu Industry Alliance's strong support to independent intellectual property rights based on the establishment of the high-end industries! Our company's development of these three years, the market reaction has been very good!

China Beauty Network : I know that our Tianzhu brand has created a Chinese-style, international trend, natural low-carbon " Tianzhu Healthy Living Museum ", then you can give us a detailed description of what it means?

Manager Zhou: Chinese characteristics, specifically its own industry is the bamboo fiber with Chinese characteristics, the first bamboo represents a spirit of China and culture, such as cotton, wool, linen, silk, these fabrics are not actually used in the market belongs to Chinese characteristics, and the unique fabric of bamboo fiber is a pure Chinese characteristics; international trend, it is now the health of the international trend, promote low-carbon environment, and our bamboo fiber fabric is very consistent with the international trend!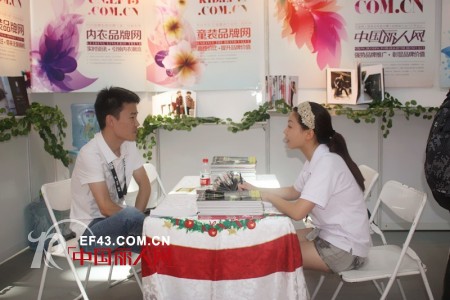 China Beauty Network : I know that the ecological bamboo underwear attaches great importance to technological innovation, take the lead in pure natural bamboo fiber as raw material, then you can give us a specific description of what are the advantages of bamboo fiber?

Manager Zhou: The advantages of bamboo fiber in the following areas: one it's hygroscopicity, the second is its breathability, the third is UV resistant, the fourth is antibacterial, and the most important point is that its texture is very soft! These are the obvious advantages!

China Beauty Network : That our bamboo eco-clothing in addition to underwear, it seems there are other aspects of some products?

Manager Zhou: Yes, apart from underwear, there are some home textiles, such as square towels, towels and bedding, three-piece bedding, blankets and more! This is in line with our theme of "Bamboo Living Hall"!

China Beauty Network : Austria, that we Tianzhu ecological underwear What is new in 2012? Can you give us a brief introduction?

Manager Zhou: The New Features of 2012 The eight characters summed up the concept of "Healthy Home, Stylish Home," which combines two major themes of today's international trends: health and fashion!

China Beauty Network : That we Tianzhu ecological underwear brand positioning and consumer groups positioning is like?

Manager Zhou: Our bamboo underwear brand positioning healthy and environmentally friendly fashion; have a certain spending power of the family. Consumer groups positioned between the ages of 25 to 45, focusing on lifestyle, family-loving, health-loving people! The theme is still young, fashion, so that home service can also wear outside!

China Beauty Network : I know that dealers are joining our brand Tianzhu must be very concerned! Can you take this opportunity to introduce our company's joining policy and some new preferential policies?

Manager Zhou: In the second half of 2012, our franchise policy has changed a lot, so to speak, there are many concessions! At this time to join our company can enjoy the six major policies, is a very cost-effective. We are free franchise fee, and second, free shop decoration design fee, the third is free staff training fees, the fourth is joining 5,000 to 1,000 yuan Product support, five to 3,000 yuan for the fabric and accessories support, six is ​​to give franchisee 50% none other!

China Beauty Network : Our franchise policy is indeed a very favorable Ha! Brand promotion is the brand building, an important part of the maintenance process, I do not know what brand we have the promotion of it?

Manager Zhou: We have through the media like Guangdong Satellite TV, Pearl River TV and other radio stations, there are outdoor advertising. And physical stores and shopping malls direct publicity!

China Beauty Network :. It seems our promotion methods and channels are very comprehensive! According to our survey of Chinese beauty network statistics, we Tianzhu brand echoed in the market once very good, do not know in recent years or more Tianzhu brand what the development plan? Can we describe it?

Manager Zhou: The first or future to strengthen the promotion of the brand, so that more people know our brand of bamboo, bamboo products to understand some of the advantages! Of course, we will continue to strengthen the Tin bamboo brand of some post-service, and secondly, we will increase innovation in product design, combined with today's fashion trends, so that our products are more stylish and diversified! Let us "Tianzhu Healthy Living Museum" worthy of the name!

China Beauty Network : Well, we talk about it today! Thank X manager today to accept our interview, let us have a more in-depth understanding of Tianzhu costumes, wish Tianzhu costumes in the future development of better and better!

Company Profile:

Shenzhen bamboo eco-apparel Co., Ltd. is a research and development, design, production and marketing as one of the apparel joint ventures, relying on the China Textile Industry Association bamboo strong support. Products to the independent intellectual property rights of bamboo fiber as the main elements of classical, stylish, comfortable, low-carbon concept into the field of home clothing, leading the terminal industry development and application. The company developed a set of international brand chain planning, win-win and strong for the development strategy, the creation of Chinese characteristics, the international trend of natural low-carbon "Tianzhu Healthy Living Museum" so that people feel the taste of life is extremely comfortable!
Bamboo health life brand culture
1, the brand interpretation: T-tian days, z-zhu bamboo, h-home, its connotation as "bamboo home" - Tianzhu Health Museum; bamboo fiber is natural bamboo fiber, Fiber to make life more comfortable! "
2, the brand positioning: high-end, stylish, healthy, comfortable and have a certain spending power of women and family needs, feel low-carbon life, improve happiness index.
3, the target market: the pursuit of eco-friendly, stylish and healthy people. Focus on brand image, enjoy the quality of life of people.
4, bamboo culture: back along the long history of civilization to the starting point of Huaxia civilization, Nu Wa made with spring and musical instrument Sheng Sheng spring sound, in order to good weather, peace and prosperity, since then opened five thousand years of civilization The prologue
Bamboo "elegant" Song Su Shi:
Can eat meat, can not be home without bamboo;
No meat is thin, no bamboo is vulgar;
Thin people can still be fat, popular custom.
Bamboo "love" Mao Zedong: "Bamboo a thousand tears, red Xia Wan hundred heavy clothing." Here, like a tear on the bamboo pole was given a love-like feeling.
Bamboo "ceremony" Mengzong crying raw bamboo shoots legend, Confucian ceremony, Xiaoyi as the most important. Embodying the fine tradition of respecting the old and loving young people of the Chinese nation.
Bamboo peace reflects the people's wish for a better life, while playing the modern life of fashion harmony, the main theme of low-carbon health.
5, Product Features: Moisture absorption Celestial bamboo fiber is known as the breathing of the fiber, moisture absorption, moisture release, breathable performance of the first major textile fibers.
Natural Health Bamboo anti-oxidant compounds can effectively remove the body's free radicals and esters peroxides, bamboo fiber and can block strong carcinogens - nitrite ammonia compounds, not only can improve the body's immune system, but also with moisturizing the skin and Anti-aging effect.
Long-lasting antibacterial bamboo fiber with natural antibacterial, antibacterial effect. After repeated washing can still maintain a good antibacterial, antibacterial effect than adding antibacterial fiber more healthy and environmentally friendly.
Soft and smooth Cinnabar fiber stability and uniform, soft touch, with a unique resilience, the fabric soft and smooth non-stick body and has a special silk texture.

Steel Screen Mesh has been widely accepted by clients from North America, Australia, Europe and Middle East for its high durability, precision and impact resistance. And they can be perfectly matched with various kinds of vibrating screens.

Steel Screen Mesh

Steel Screen Mesh, Steel Screen, Steel Sheet Piercing Mesh, Steel Woven Mesh

HUATAO LOVER WIRE MESH CO.,LTD. , https://www.huataowiremesh.com